Watch the magic of sailing unfold offshore
by David Schmidt Aug 2 8:00am PDT
August 2, 2022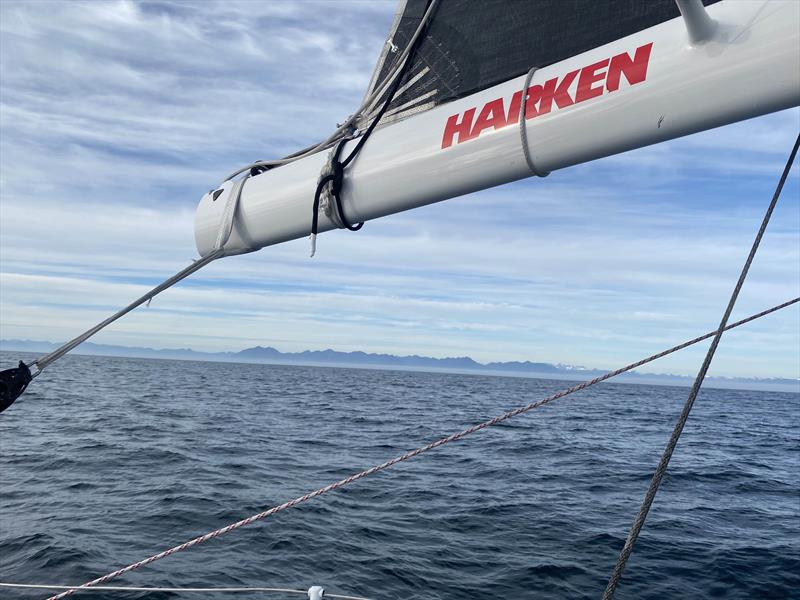 Mountains to port, bumps to starboard © David Schmidt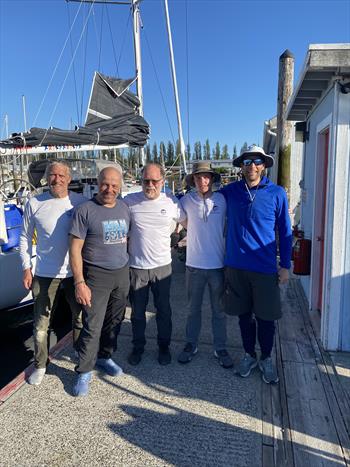 The "D2WA" delivery crew: Erik Kristen, Erden Eruç, Paul Bieker, Leo Bieker and the author, in Port Townsend, Washington, 92 hours after leaving Ketchikan, Alaska © David Schmidt

One of the greatest joys of offshore sailing is the opportunity to experience nature in all its moods and forms. I recently had the fantastic opportunity to help with delivery dark star, the boat that won the 2022 Race to Alaska (they raced as Team Pure and Wild) home from Ketchikan, Alaska, to Seattle, Washington, via the west coast of Vancouver Island after the race team's walk-away victory (it was measured in whole days).
While we had almost the entire 96-hour delivery of champagne-like weather (read: no rain, following seas and sloping wind angles), one particular evening stands out.
We left Ketchikan on the penultimate Wednesday in June, sometime around noon, and by late Friday afternoon we were somewhere off Vancouver Island's Brooks Peninsula. This body of water has a well deserved reputation for offering great conditions but we spent the afternoon sailing at 10-12 knots, choppy seas that were a few feet high coming in from our quarters and fog.
While this made for a comfortable ride, the boat – a Paul Bieker-designed Riptide 44 – is an obvious wind machine. We carried a full mainsail and an asymmetric travel kite, and the angles, the air pressure, the sea state and Dark Star's impressive speed meant it was easy to outrun its apparent air.
We rooted through the riders (mea culpa: I wasn't very good at keeping the kite inflated without many cross track errors) before Erik and Paul (Bieker) settled in for longer steering sessions. Our VMG went up, our cross track error went away and things felt good.
I can't remember who turned on the stereo and cockpit speakers, but soon the tunes were flowing, bars of dark chocolate were making the rounds, and there was plenty of coffee and tea after dinner. While it was getting late, evening had not yet turned into night (remember, this was at 50 degrees north latitude, about 96 hours after the summer solstice) and the entire crew was hanging out in the cockpit watching Erik and Paul take Turns come damn close to boat speed with wind speed.
Then the clouds parted.
Suddenly great expanses of saw-toothed peaks, still white with their cloaks from winter and spring snowfall, loomed in front of our harbor board. We always knew there were giant mountains, but after spending the best part of 36 hours in a fog bank, we were suddenly convinced.
A comfortable silence spread across the cockpit as we all took in the scenery.
Then someone noticed a whale tail. Then many.
While I suspect Erik, our skipper, had focused his weather routing on finding better wind pressure, he had expertly guided us to the perfect spot: to port was the expanse of Vancouver Island; to starboard (and soon fore and aft as well) were whales. I've lost count, but I suspect I saw at least a dozen animals, maybe more, all swimming a northerly course.
I can only imagine what the humpback whales were thinking Dark Star's slippery undercarriage and appendages, but we've had plenty of time to take in their graceful bodies, the sheer size of their capsule, and the fact that these beautiful creatures make this secluded stretch of sea their home for part of the year.
While we all knew we would have to get used to our nightly watch schedule, everyone stayed on deck to watch the last of the dorsal fins and tails disappear.
Then the evening stars began to fill the darkening sky.
While I live in Bellingham, Washington, a place that prides itself on its inky black skies, my yard already has Nothing on the heavenly scene that revealed itself.
If you're unfamiliar with this stretch of coast, this is one of the most desolate stretches of the west coast, with no visible shore lights, towns or villages, and not even other ships nearby. Basically no light pollution.
Standing in the cockpit and looking up felt like peering through our own private version of the James Webb Space Telescope… just with our bare eyes.
The sky was soon pure black, broken only by the light of so many distant stars, and we reluctantly slipped back into our watch plans.
May the four winds blow you home safely,

David Smith
Sail-World.com North American publisher