You are engaged! Congratulations and welcome to the crazy world of wedding planning. First things first, take a minute and absorb it all. Take all the ring selfies, make all the calls and posts you want, and get going! While some couples choose to start with other important wedding details first (like choosing a date and location) before taking engagement photos, others want to schedule their shoot as soon as possible to capture the excitement of the moment. Whatever you decide, you will want to make the most of this special photo session.
If you've never taken professional photos like this before, you probably have a lot of questions running through your head. What do you wear? Where are you going? how do you pose Does it get uncomfortable? Relax, we are here for you. I spoke to two wedding photographers to find out what to expect for your engagement photos and how to plan the ultimate photo session.
Mike Waldmeister
Luxury and destination wedding photographer
Mikkel is an East Coast-based wedding photographer specializing in celebrations ranging from grandiose weddings to intimate escapes.
Erika Weinand
Little wedding and elopement photographer
Based in Des Moines, Iowa, Erica focuses her wedding photography business on capturing real, candid photos that show her clients' personalities.
Prepare your hands before your engagement photos
As with most things in wedding planning, your engagement shoot requires some preparation. After all, you want to be ready to snap some incredible photos! Perhaps most importantly, Mikkel Woodruff of Mikkel Paige Photography recommends getting your nails done. "Your hands get photographed a lot during your session," she said. "If you don't usually get your nails done, you can definitely go for a simpler look by using neutral colors."
The reason why your hands are often photographed? The ring of course! So you should make sure it's ready for close-up as well. Woodruff recommends taking it to your jeweler to have it cleaned and polished before your session as well.
Consider a pre-shoot glam session
When it comes to hair and makeup, getting it done professionally can make a huge difference in your shoot. Erica Weinand of Erica Jane Photography suggests having a professional take care of your hair and makeup for the session, as "they can highlight your normal hair and makeup to really stand out for your photos."
While it all sounds like a long list of tasks when it's not even the big day, both photographers agree it's worth it. "There's nothing better than looking good, but feeling Her best will show in photos, too," Woodruff said. "If you feel like a million bucks after doing your hair and nails and cleaning your jewelry, you will emulate that with everything and everyone around you, including your fiancé, your photographer and the camera."
Plan your outfits strategically
What you wear for your engagement photos is entirely up to you, but there are a few tips that can help you look your best. First, Weinand recommends sticking with neutral or solid colors, which tend to photograph better than busy prints. Woodruff's advice: "Stay away from things that are too loud that you might regret later, like crazy patterns or words or brand names on clothes."
The number of outfit changes you want to make is also your decision. "If you want the entire session to look cohesive, stick with one outfit," Woodruff said. "If you want a choice of two outfits, I recommend a more casual one (like what you would wear on the weekends when you're just hanging out) and a more 'formal' one, like what you wear to a nice dinner would."
As Weinand noted, there's no way to overdo it. Dress up in your chicest evening wear if you wish – it's up to you!
Choose Complementary – Mismatched – Colors.
Have you ever seen these funny memes of couple photos from the 80's and early 90's? You definitely don't want to do that for your engagement photos, but you do want to look cohesive. As Woodruff put it, one should "complement one another, but not look like twins."
Weinand explained that colors that are too closely related can actually clash on camera. Vary the colors of your outfit for a more flattering look, but stick to a general color palette. For example, if you're wearing a patterned shirt, pull out an accent color from the pattern and have your partner wear that shade, Weinand suggested. Or if you go for a colorful outfit, have your partner wear something more neutral.
Don't forget the accessories
Shoes are important. Yes, also for your partner. Wearing a pair of battered tennis shoes will limit the angles and poses your photographer can use, Weinand explained. Make sure the shoes you choose are clean and comfortable – otherwise it will show up on camera. To jazz up your outfits even more, consider adding a hat, jewelry, or even a bouquet of flowers for extra personality.
Choose places that feel special to you
Location, location, location. It can be difficult to narrow down the perfect location (or locations) for your engagement photos, but both experts agree that choosing the "where" is one of the most important considerations before your session.
Woodruff loves when couples choose a venue with the opposite vibe of their wedding. "So if your wedding is in the country, get an engagement in the city," she explained, "or if your wedding is in the spring, go to a fall engagement session so you can get the fall leaves." (Full disclosure: My husband and I did this, and Mikkel was our photographer!)
Weinand, on the other hand, suggests choosing a location that is meaningful to you as a couple. "Places can tell your story in a way that many things can't," she said. "If you and your partner are more laid back and love a chilled date night, maybe a bookstore or a park is more your style!" But if you like going out and having adventures on your date nights, a brewery, downtown, or even activities like hiking or kayaking are more your style."
With the world as your oyster, talk to your partner and photographer to find the best spot for you. You can choose a location with a beautiful backdrop or one that plays a role in your love story.
Plan poses and snaps
Having to pose for a picture can be a bit awkward to say the least. While some couples are more natural on camera than others, it can help to be prepared and have an idea of ​​some "staged" shots you want, as well as some ideal snaps. As for the poses, Weinand has a few tips:
Wrap your arms around your partner and kiss them all over, but not on the mouth. This brings giggles and smiles every time!
Join hands and just dance for a minute. It totally shows your personality – whether you're silly, cute or chilled.
Run behind her and turn her around, or sway while kissing.
Your photographer will guide you through your session, so don't worry if you haven't chosen poses in advance! The most important thing is to relax and have fun with your partner.
Do you have a backup plan
Unfortunately, while you can hope and wish and cross your fingers, you can't control the weather — not even on the day of your wedding or engagement photo shoot. However, what you can do is have a plan B, whether it's a backup date or an alternate location.
For example, if it rains during your outdoor session, you can switch to a weatherproof indoor location instead. When the outdoors isn't an option, Weinand's favorite indoor locations include a brewery or coffee shop, your home or apartment, a professional studio, or an indoor garden.
And if you don't want to shoot indoors, relocation is always an option. "The beauty of weather is that you can usually predict rain about 24 hours in advance," Woodruff said. "Also, your engagement session (unlike your wedding) has a flexible date. Make sure if it looks like rain you can easily reschedule with your photographer and all appointments like hair and makeup in advance so you are prepared for all scenarios."
Do you feel a little better prepared? Now all you have to do is have fun!
"This is a wonderful time fun as a couple and with your photographer in a relaxed setting," Woodruff said. "Don't put too much pressure on your engagement session. Just know that you will get some great photos from this time in your life to look back on for years to come!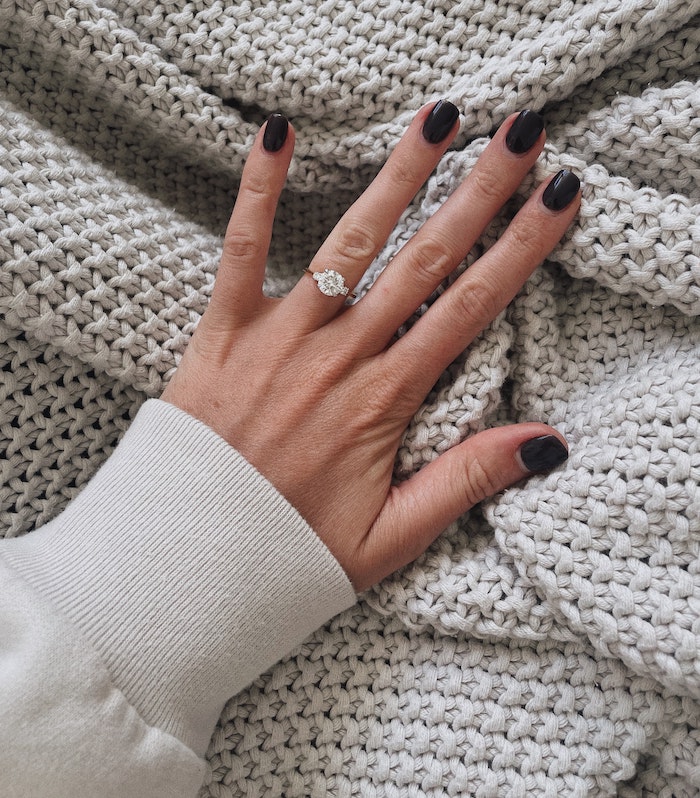 just engaged? Here are 6 things brides want you to know ASAP