2022 RS500 World Championship at Weymouth & Portland Sailing Academy – Runners and Drivers
by James Curtis Jul 29 12:06 PDT
1st-5th Aug 2022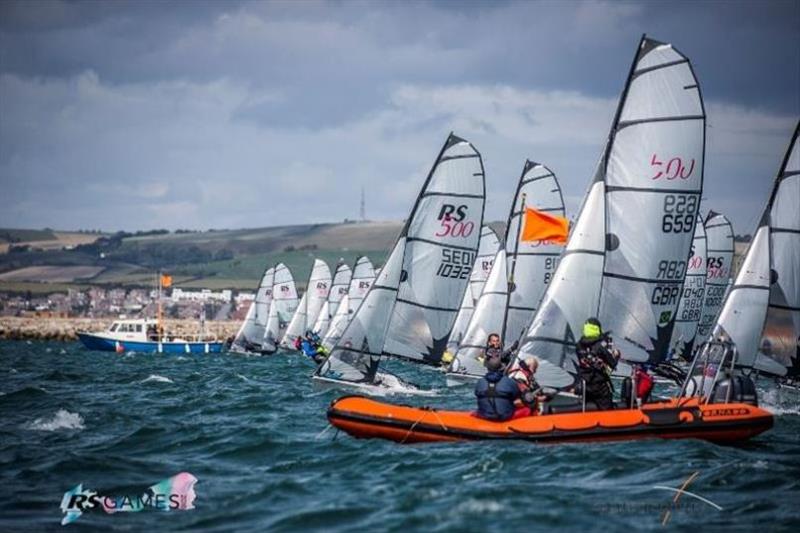 RS500 fleet © Sportography

With the next edition of the RS500 World Championship just around the corner, it's time to take a look at some of the runners and riders who will be lighting up the waters around Weymouth next week and, more importantly, who I had more to say about than "they're fast".

The British
After a couple of years with little British involvement, this year it's the Brits' turn not to have to pay for a ferry (sorry IOW crews) and they've turned up in numbers, but after such a long absence who'll be paying attention to the international circuit?

Peter and James Curtis
They were the only GBR team in Como but the 2019 world champions are looking forward to a little more wind in Weymouth. Always strong when the wind is blowing, they won the most recent Eurocup at the North Sea regatta in strong winds and waves. This is the heavyweight team to keep an eye on if the forecast looks fruitful.

Mike Saul and Oliver Kent
The only other British team the rest of the world has seen in recent years stormed to 5 race wins at the 2019 World Championships in Lipno. Perhaps Oli has been missing time on the boat lately, Oli was at university despite being suspiciously close to Weymouth…

Tim and Heather Wilkins
The three-time world champion has been dormant on the international scene for a number of years, quietly training with the rest of the Isle of White squad. However this year they have returned with a vengeance, traveling 8 hours for the UK Circuit event at Filey and winning the last Lymington event. The ones to keep an eye on at 0-25 knots are often seen gliding down the runway while the rest of us try to figure out if there's wind.

Hugh and Luke Watson
This father and son duo have taken the British fleet by storm in recent years. Deadly when it's light out, they're an unknown force in one fell swoop, but Hugh has enough experience in his closet to lead me to believe they won't be slow. Look out for them flying the fleet into port.

Simon and Katie Horsfield
Another strong addition to the British fleet, they have upgraded to the 500 after much success with other boats. With a strong performance at last year's season-ending in Great Britain, they won against a strong field. Rumor has it that these newlyweds spent their honeymoon in an intense training camp.

Steve and Sarah Cockerill
The penultimate time in Weymouth for a certain Olympian whilst they were on a charter boat for the first time. They now have their own boat to train in. But there is hope for the rest of us, Steve has revealed all his secrets! Top Tips from the Boat Whisperer – Steve Cockerill – Improve your Sailing – Full Talk

The non-Brits
This group of talented sailors is at a disadvantage for Team GB this year as they have spent so much on fuel and ferries to distract them. But how much do the last two Worlds of Practice count?

Team CZE

Jakub Dobry and Tereza Dobra
The reigning world champions are back to defend their crowns. Jakub is fresh from qualifying team CZE for the second round of the SSL Gold Cup and they have been training hard. Will these inland sailors be able to handle the waves of Weymouth Bay and will the speed at which they consistently outperformed in Como turn around in salt water?

Sara Tkadlecova and Klara Houskova
This lightning fast pair are definitely the dark horses of the competition. Sara spent a lot of time going fast in a 49erFX and they could have been on the podium at Lipno had it not been for a gearbox failure. Watch out for their great start and don't be surprised if they lead by a few top marks.

Team ITA

Icapo and Federico Roncuzzi
The brothers have been at the top end of the fleet for a couple of years now and know how to drive well. In the past, they've been let down by a few bad results. So if they can dial in, a medal streak is on the horizon.

Giulia Rossi and Adriana Campanella
Almost always on the women's podium, but to win the overall title these two get better every year. They will fight for the women's title with Sara and Klára.

Team NE

Jesper Overbeeke and Merle Meinhardt
At last year's Worlds and the recent Eurocup event, Jesper and Merle can't expect to do any better this time around. They're quick in the easy stuff and they've now got an extra year of training under their belt and with an average age much lower than British teams it makes a big difference.

Hylke Kooistra and Thomas Holewijn
Last but not least, Hylke and Thomas took 2nd place in Lipno, a 4th place in the last Eurocup shows that they still have great speed, even though they sometimes sail past the best mark. Watch out for them when the wind picks up.
As long as it took me to write this, it's not a complete list, so pay attention to some of the names I've missed.
The RS500 World Championship will be held August 1-5 at WPSNA.