Last week, the Portland City Council advanced a work plan to address the climate crisis, outlining the "actions Portland can and must take to eliminate carbon emissions by 2050." This plan grew out of the City Council's 2020 climate emergency declaration, which set new, ambitious emissions reduction targets and reinstated Portland's climate plan to focus on climate justice and justice.
But transport advocates have largely focused on their own work rather than commenting on this work plan at all, and those who have spoken out are unimpressed by the vague language in the plan and the lack of earmarked funds for many of the plan's action items. Adding to the uneasiness is the recent vote in the Freeway Upgrade Council, which doesn't give the city of Portland much credibility on climate action.
The Bureau of Planning and Sustainability (BPS), headed by Commissioner Carmen Rubio, led the creation of this work plan, but it is divided into several categories involving other city offices, most notably the Portland Bureau of Transportation (PBOT).
Nine actions are listed in the transport category of the work plan. They are as follows: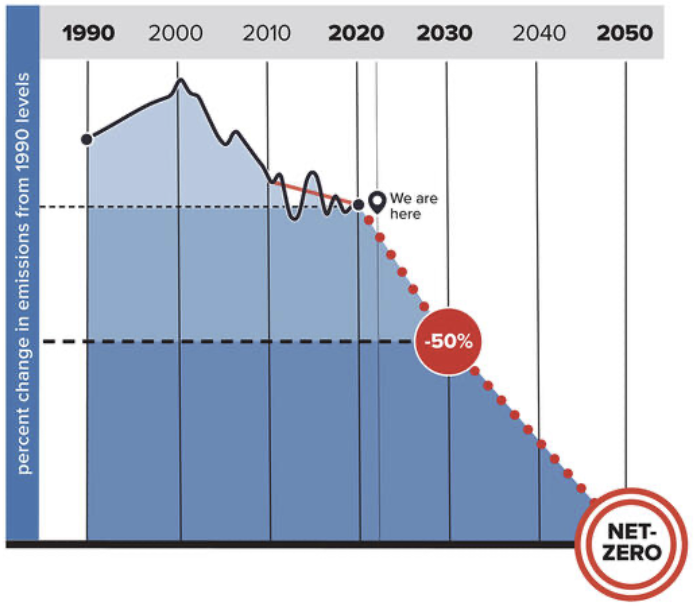 Make low-carbon travel options safe, accessible, and convenient for all Portlanders.
Use equitably designed pricing strategies and parking management to encourage less driving when people and businesses have other travel options.
Decouple transportation finance from fossil fuels.
Make low-carbon transportation more affordable, especially for those who can least afford it.
Support state and local efforts to reduce mileage.
Get the new build ready for EV charging.
Facilitate the use of electric vehicles when you cannot charge at home.
Make cargo cleaner.
Replace petrol diesel at the pump.
The document explains how the city intends to implement these measures, with some explanations being more detailed than others.
Many action points are formulated vaguely and/or do not have their own funding.
The description of how to get the first item is a good example of this. Here, the document states that this action point will be achieved by "allocating space on city streets for lonely car journeys, increasing funding for infrastructure projects, activation and programs that help more people travel more on foot, bike and." to do in local public transport is achieved. "
Other measures are more straightforward: For example, Portland has a plan on the books to price driving and parking to reduce car dependency, giving the second action point a little more weight.
The 2020 climate emergency declaration came just after Mayor Ted Wheeler and then-Portland Bureau of Transportation Commissioner Chloe Eudaly rescinded their support for the I-5 Rose Quarter expansion project, lending some legitimacy to their climate change ambitions. Things are different now. Not only did the city recently rejoin the Rose District project, it also voted unanimously to support the locally preferred Interstate Bridge Replacement Program (IBRP) alternative just a week before the climate work plan was approved. The IBRP will expand I-5 across the Columbia River, and proponents don't believe it will provide the active transportation infrastructure necessary to accommodate the increased auto capacity.
At the City Council meeting on July 20, as the council heard public comments on the climate work plan, youth climate activist Liam Castles slammed the commissioners for what he sees as their performative support for climate action, which has no weight behind it.
"You're voting on my future and the future of every young person in Portland," Castles said. "We pat each other on the back for saying you're going to do something about it [the climate crisis] only adds insult to injury."
Wheeler responded to Castles by encouraging him to run for city council in the future.
The commissioners agreed with critics that even the best plans make no sense if they are not followed by action.
"We have a lot of work ahead of us and it will take really substantial action from all of us to make the consistent changes that we have made for Portland, for our families and for future generations," Rubio said.
Current PBOT Commissioner Jo Ann Hardesty paid tribute to critics by thanking climate activist organizations Sunrise Movement, Verde and The Street Trust for being good partners "no matter how frustrated they get with us at times".
While all Commissioners have agreed to move this plan forward, they will still be accepting written input until August 24th when they meet again on the subject. The commissioners stressed the ongoing nature of this work and said the plan will evolve as more stakeholders contribute their views.
The Pacific Northwest is currently in the midst of a brutal heatwave that has already been linked to the deaths of four Oregonians. As the work schedule says, it's now or never. The question is whether action will follow these strong words, which will require dedicated funding and significant work on the part of the City Council.
---
Read the full work plan here.
Taylor has been a BikePortland employee since November 2021. She has also written for Street Roots and Eugene Weekly. Contact them at taylorgriggswriter@gmail.com