Listen to this story
When Gregg Treinish, aged 24, set out to trek the length of the Andes, there was a lot he didn't know. First of all, little did he know that he and his hiking partner Deia Schlossberg would be the first to do it. Or that their 22-month, 7,800-mile trek would bring them international recognition.
He also had no idea what he was going to do next – but he sure had plenty of time to think about it.
Treinish eventually decided to combine his love of outdoor adventure with his desire to make a positive impact on the world. The result is the non-profit Adventure Scientists, which he founded in 2011.
The organization uses the skills of adventurers, who often travel to remote or inaccessible locations, to gather data for scientific studies focused on solving environmental problems. For the past decade, Adventure Scientists has helped collect information on pikas, pine martens, plastics and more.
The Revealer spoke to Treinish about combining passion and impact, why this work can be a catalyst for major life changes, and what exciting projects lie ahead for him.
Q: How did you start the adventure?
I grew up in suburban Cleveland and didn't spend much time hiking or backpacking. My parents are not outdoor people. But when I was 16 I went backpacking in British Columbia and just fell in love with the mountains and traveling that way. Then I went to college in Colorado and started being in nature a lot more.
I decided to hike the Appalachian Trail in 2004. I was really passionate about the outdoors, but I felt selfish on this journey for not doing good. After that I went into wilderness therapy for a while, working with children who were struggling. This furthered my experience and skills in the backcountry.
then [Deia Schlosberg] and I embarked on this journey to trek the Andes, not knowing that we would be the first to do it. I thought hundreds of people did or would do it. We simply chose South America after looking around various long trails around the world.
There really wasn't a long trail in South America, but it was clear that we could connect things. So we did. We blogged and posted about it as we went. We had a few sponsors and eventually people started following us. We got some magazine articles and wrote some articles. then National Geographic saw us in a parking lot after work and voted us adventurers of the year. That opened up all the possibilities in the world for us.
Q: When did you combine this passion with the idea of ​​making scientific impact?
One of the things I love most about long-distance trekking adventures is that they're just endless hours of thought. It's really a mind game to do such expeditions. For me it was "What's next?" and "What am I doing with my life?" The same questions we all ask ourselves, but I actually had a lot of time to find out and think about it while trekking in the Andes.
When I finished, I was keen to study animal behavior and learn how to help species survive and thrive. I focused on Lions. There's a guy here in Bozeman named Scott Creel who's studying predator-prey interactions in Africa and applying the carnivore-prey relationships he's learning there to that ecosystem because there's a lot of corollaries.
I called him and said, "Hey, I'm in Patagonia, I just walked here from Ecuador. Can I study with you?" And he said, "Of course."
[Deia] also interested in a film program here. So we moved to Bozeman. I have a bachelor's degree in wildlife ecology and before I ever made it to Africa with him I got a job here tracking lynx, wolverines and grizzly bears.
This incredible guy named Steve Gammon taught me how to track, taught me what I was looking for. It's not rocket science, so we started getting the public involved. We would do these weekend retreats and get people to come out and learn how to track with us.
Once we had a reported sighting, I would track and collect DNA. I've also had other tech jobs working with spotted owls in California. I worked at Fort Peck Reservoir on the Missouri River studying pale sturgeons.
It was fantastic. I loved being out there, using my outdoor skills and actually helping – I felt like I was making a difference. I believed that there are more people like me who want to make a difference if they have the opportunity. And then there were also many scientists who needed data. So I combined both.
Every project we undertake is developed in partnership with one or more scientists. They say, "We need this data to solve this problem or to address this problem." We couldn't do this work without incredible scientists trying to solve really big problems.
Q: What kind of projects did Adventure Scientists do?
Early on we conducted ptarmigan studies. We did a Pika study that resulted in a major publication in Nature. Sometime around 2014 or 2015 we moved on to doing much less but much deeper work.
Since then we have worked with Betsy Howell of the Forest Service on pine marten reintroduction in the Olympic National Forest. We partnered with Harvard Medical School to collect fecal samples from more than 100 countries, which were then used to narrow the search for the genes responsible for antibiotic resistance in enterococci bacteria that have uses for other bacteria. With Abby Barrows, we have collected the world's largest data set for microplastics.
We are currently working with the forest service to compile chemical and genetic reference libraries for all tree species. These are used by the Justice Department to track timber thefts.
It was a very wide range of projects. I would say the similarities between them are three things: Is there a major environmental issue that is data limited? Is there a way from collecting data to taking action against the problem? And is there a clear need for outdoor community involvement?
Q: What motivates adventurers who volunteer?
Each volunteer probably has a slightly different motivation, but I think in general it's because we're so lucky to be able to play outside. We are so fortunate to even have the ability, not to mention the resources and time, to do this. So how can I give something back? There are so many different types of volunteering, but I think what's really cool about it is that you combine passion with giving back. I think that really resonates with people.
We've had volunteers say this was the catalyst to get them to become aware of these issues, dedicate their lives to them and pursue careers in conservation. People have college degrees. Others have started their own nonprofit organizations focused on the issue they were working on.
I think the other big thing is that a lot of our projects really require a focus on the environment, like looking for a specific species of bird. Once you learn to look at the world in this way, it never goes away. The people I used to track would say so, and the people who key in certain types of trees say that from that point on, every time you walk through a forest, you have different eyes.
I'm sure someone came up with a name for it, but it's like walking along and seeing that one purple flower that you didn't notice before. It's so beautiful and you look at it, trying to identify it, but then you rip your head out and realize they're growing all around you. Something like that happens. [Our volunteers] Start seeing the forest by actually focusing on it with a different lens. This is a catalyzing experience for them.
Q: What's next?
As for specific issues, we're working with three federal agencies and over 40 state agencies who will benefit from the data on a really exciting investigation of Wild and Scenic Rivers. I hope this project will continue for a long time to come. We also have work ahead of us on forests, climate change and biodiversity.
We will also expand internationally. Initially we were very international but as we focused on the deeper work many of our projects became North American focused. But we have a lot of experience and knowledge to work internationally and that will be a big focus for us in our next round of growth as an organization.
I'm looking forward to this for two reasons.
One is that the promise of this organization has always been international, and I built it on the belief that we will always be global. And I want to make that come true.
Second, the issues we work on are international. Illegal forestry, for example. I think 1 percent of illegal forestry takes place in the United States and the rest takes place around the world. And that applies to the problems of climate change. In the Global South, people are disproportionately affected by these problems.
We want to be where we are needed most. We want to be where we can make the greatest impact.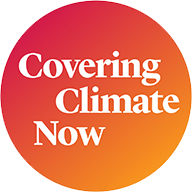 This story of Tara Lohan originally appeared in The Revealer and is republished here as part Cover climate nowa global journalistic collaboration that strengthens coverage of climate history.
---