The year-round organized sailing training is more than just a recreational opportunity for some Hatteras youth and their parents. Summer camps and short-term induction programs are good for those who only have a week or two to commit, but when you have larger goals in mind year-round training is required to be competitive with other Annapolis, Norfolk regional sailors , Beaufort, Charleston and numerous other places.
Sailing can open myriad avenues into the academies (such as USCG, Navy, WestPoint and the Air Force), college sports and exciting future careers for those who start young and stick with it, and Hatteras Sailing hopes to provide the opportunity to ignite those passions at an early age.
Hatteras Community Sailing, now in its third year, aims to stimulate this interest in sailing and subsidize the costs to make sailing financially within reach of every child on Hatteras Island.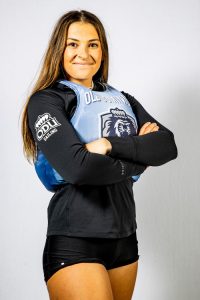 Additionally, Hatteras Community Sailing is making some bold improvements for 2022.
For beginners, the organization is fully focused on creating fun activities that ignite a passion for sailing and the sea more broadly. The best way to achieve this is with talented and inspiring coaches and the next step is to provide those staff with the necessary tools like good boats, a permanent sailing center and some great kids to work with.
With that in mind, Hatteras Community Sailing welcomes two passionate collegiate sailors to the 2022 program. Makalynne Dyer, who graduates from Old Dominion University (ODU) this spring, has committed to taking on the position of head coach, a potential one year-round endeavor.
Makalynne is certified at all the proper security and Red Cross levels, including PADI First Responder certifications. She has coached at several established organizations notably the Severn Sailing Association in Annapolis (the largest One Design Association in the US), the Norfolk Yacht and Country Club and the Carolina Yacht Club in Wilmington. She is a US SAILING certified Level 2 Instructor and has four years of college sailing experience with ODU in Hampton Roads.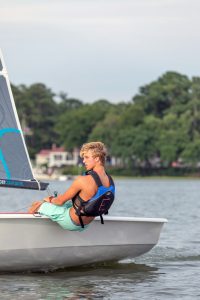 Ian Hoogenboom, Duke Class of 2024 and member of the Duke Sailing Team, joins Makalynne in 2022. Ian has trained with the Beaufort SC Sailing Organization and is a talented collegiate sailor with a passion for all types of marine sports
To keep these coaches busy, Hatteras Sailing is launching programs aimed at youth this year.
"Nothing is more frustrating for parents than taking the kids to an amazing vacation spot only to find them sitting indoors playing with their electronic devices. Funding has to come from somewhere to subsidize the coaching and facility costs, and we don't want to charge the local parents for what it takes, so we need to find multiple sources of income to fulfill our mission for the local youth," says Jay Phillips, President of Hatteras Community Sailing. "Hatteras Sailing encourages locals to support this effort through word of mouth!"
Every week in the summer there are five-day youth camps and clinics for 8 to 18 year olds. Prices average around $380 per week per child for 4-6 hour sessions at the Sailing Center in Buxton and the camps mix fun sailing and water sports activities with professional instructors. For security reasons and for coaching capacities, places are limited to 10 registrations per week.
Changes are also about to be made to the old premises of the Fish House Restaurant in Buxton.
Last year, Hatteras Sailing leased the property while the property owners collected long-awaited survey results in order for the lease to convert into a purchase. According to a recent announcement, terms have been agreed for the purchase of the property, meaning the property and building can begin repairs and improvements needed to be an asset to Hatteras Sailing and the island community for the foreseeable future.
"Hatteras Sailing Center has something for almost everyone, young and old," said Phillips. "Youth programs for locals and visitors, charter catamarans for sunset sails and captained day trips, small boat rentals from Hobie Cats and other club boats, [and] even some options for team building sailing events with the larger boats and facilities."
As an example of upcoming programs and events, Hatteras Sailing (in partnership with Frisco Woods Campground and Tavern on May 12) will host the annual Wind and Waves One Design Regatta May 13-15 in conjunction with the SpringFest curbside fundraiser scenic drive from Frisco to Buxton. The event offers great food, fun activities, entertainment and sightseeing options with regatta spectator boats.
For more information on any of the upcoming programs offered by Hatteras Sailing, please call 252-297-6665 or visit the website at hatterassailing.org. Hatteras Community Sailing is a registered NC Non-Profit Corporation governed by its Board of Directors and supported by generous sponsorships and donations from local parents and business owners.