Duels aim for glory in the 50th Melbourne to Hobart Yacht Race
by Di Pearson/ORCV Media Aug 3 10:08pm PDT
December 27, 2022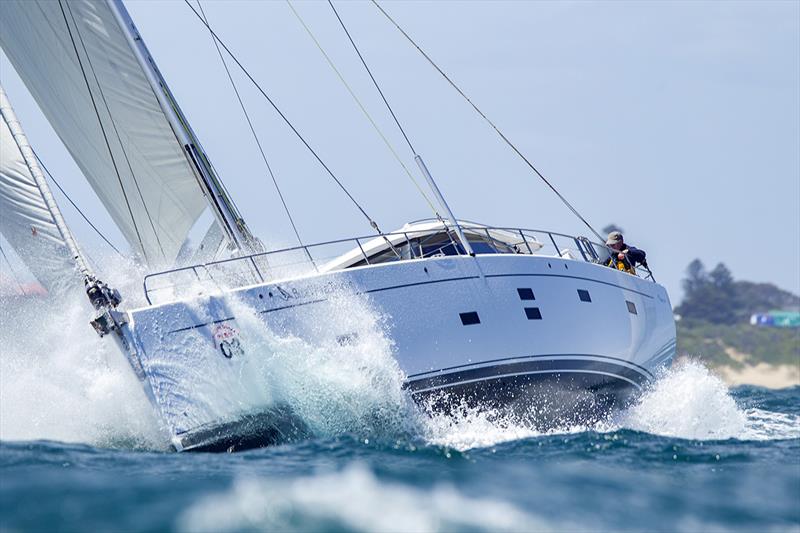 Blue Water Tracks plows through the water – Melbourne to Hobart Yacht Race © Steb Fisher

Among the two-handed entries already received for the 2022 Melbourne to Hobart Yacht Race are some serious contenders for the Heemskerk Trophy, which is awarded each year to the overall winner of the race.
As this is the Ocean Racing Club of Victoria's (ORCV) 50th anniversary race, everyone wants to win it and Ryujin's owner Alex Toomey and his co-skipper Andrew Hibbert are no different.
Like their two-handed opponents, they know it's possible because it's already been accomplished. The first was Simon Kellett's Bobby Dazzler, winner in 1990 with Chris Pullin.
In 1994, Kellett returned, one of three two-handed entries, winning Line Honors and the Double-Handed Championship on Fast Forward with Ian Rushton.
Toomey is determined to crack it properly. He owns the proven Sayer 12, Ryujin. He rides with Andrew Hibbert, with whom he won ORCV's Apollo Bay Race in May.
"The 50th is an event on flagstones. It's nice to be a part of something that only happens once," agrees Toomey.
When the boat was Ryu-Jin-FGI, Murray Bucknall and the yacht's designer and builder Jon Sayer finished the 2007 Melbourne to Osaka two-handed race in fourth place, winning the Open C Division. This despite driving past for repairs.
"I used to sail with Murray on the boat in Queensland. I bought it about three years ago. Andrew has the experience of doing the Melbourne Osaka (2013 with Tony Warren on Kiss Goodbye to MS).
"I've known Andrew since I came back to Melbourne. We've been sailing together for 12 months. We just click together on the boat, we have a similar attitude towards racing and we support each other," says Toomey.
"There is a competitive two-handed field. We weren't built to handicap, the boat was designed for Osaka, but if we have the right weather we can power it. Winning Apollo Bay was a good boost for us knowing the boat can win overall. We just have to work hard."
Peter Dowdney, Australasian Sales Manager for Ronstan, an ORCV endorsement sponsor, is another example. He will join Joker on Tourer as co-skipper with her owner Grant Chipperfield.
"We finished the races from Melbourne to Devonport and Sydney Hobart twice. Grant and I have put in enough miles to test our systems and toss the boat around in all conditions except the light air at this week's Gold Coast Race!
"We enjoy each other's company and sail well together," says Dowdney, adding, "There's plenty of Ronstan on the boat for crazy ideas during the race…"
The Victorian sailed his first 'West Coaster' in 1983: "It was my first major race. We took line awards on the 38ft Freelance against over 60ft boats. The cards went our way and it forged my passion for ocean racing .Forty years later, we're doing it again.And 50 years for the race,it's big.
"The other reason we do it is for the magnificent and dramatic scenery. It feels like there is no more isolated place on earth."
Also making a double-handed entry is ORCV Commodore, Grant Dunoon, whose co-skipper is former ORCV Commodore and Life member Neville Rose. Loyal members of the club, their boat is Dunoon's beautifully appointed Moody 54 Ds, Blue Water Tracks.
The Commodore is under no illusions about his chances of winning, his yacht weighs 28 tons, but that's not the point.
"Blue Water Tracks is a ride boat, not a full-fledged racer. We won't be able to compete with a handicap but it's the perfect boat for two handed sailing, it's well set up.
"I really enjoy the challenge of short-handed sailing. It's a little less stressful than with a full crew. You need to train and get the crew up to speed to keep the boat working well. Short-handed offers a number of different challenges, such as when the sail changes. I enjoy that side of it and the fact that Neville is an experienced short handed sailor.
The Melbourne to Hobart Yacht Race, organized by ORCV in association with Derwent Sailing Squadron, begins at midday on December 27th from Portsea Pier.
Registration, announcement and list of participants can be found at www.melbournehobart.com.