Posted on Monday August 1, 2022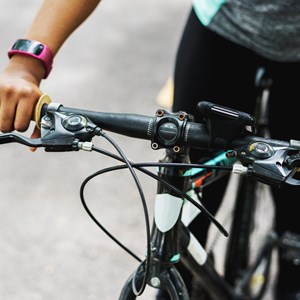 PLANS have been announced for major investment to improve walking and cycling facilities on a route from New Lubbesthorpe through Aylestone to Leicester city centre.
The local councils plan to collectively invest around £1.2m in a range of improvements to create a safer and more attractive route for pedestrians and cyclists linking New Lubbesthorpe in Thorpe Astley and the nearby Meridian Leisure Park in Blaby with Leicester city centre connects.
The proposed program includes widening and improving footpaths between Murby Way and Foxon Way in Blaby and creating safer crossings at key junctions to connect directly to existing cycling offerings on the Meridian Way.
The footpath across Mossdale Meadows will be widened to provide more space for walkers and cyclists. A new direct link to the meadows of Meridian Leisure Park will also be created as part of a project coordinated by Savills owners.
A number of improvements are being made along the Kingsway to provide a direct link to Aylestone Meadows, where the steps leading into the park will be replaced with a ramp. A new path will connect directly to an existing pedestrian and cycle path, which will also be improved.
Cyclists and pedestrians will then be able to use the existing Pop Route cycle lane on Braunstone Lane East, which the City Council wants to make permanent. This provides a safe and direct connection to the Great Central Way, which has seen heavy investment in expanding and improving the route in recent years.
Pop-up bike lanes on Western Boulevard and Mill Lane will be permanent, connecting to the De Montfort University campus, downtown and Braunstone Gate, where a major "mini-Holland" transformation is currently underway.
The new work is being supplied by Leicester City Council through its Transforming Cities Fund scheme in association with Leicestershire County Council, Blaby District Council and Braunstone Town Council.
The scheme is supported by the Leicester and Leicestershire Enterprise Partnership (LLEP) through the Leicester and Leicestershire Business Rates Pool Fund with over £500,000 in funding.
Leicester City Council was also successful in securing an additional £450,000 in cash from the Department for Transport through the Sustrans Paths for Everyone scheme to help improve the National Cycle Network.
The city's Deputy Mayor, Cllr Adam Clarke, who is responsible for Environment and Transport, said: "In order for the city to grow sustainably, it is imperative that we provide the infrastructure to help people make more sustainable and sustainable choices for their shorter journeys switch to more active means of transport. By making routes safer for pedestrians and cyclists, we enable more people to leave their cars at home and choose cleaner, greener and cheaper modes of transport.
"I am delighted that we can work with our county partners to provide this valuable new route for cyclists and pedestrians within the city limits and the wider metropolitan area."
Cllr Ozzy O'Shea, County Council's Cabinet Member for Highways and Transport, said: "We are delighted to support this project which will open a new walking and cycling path linking the town and county.
"The development of hiking and biking trails is critical and builds on the work we are doing to create local cycling and recreational infrastructure plans in parts of the county. It is also helping us to work with people and organizations across Leicestershire to become a net zero borough by 2045 or sooner. We have discussed our strategy and action plan in this regard."
Neil McGhee, LLEP Board Member and Low Carbon Champion said: "Our goal has been to fund priority economic projects that drive productivity and growth in our region and Blaby Walk and Ride is doing just that.
"By allocating £500,000, the LLEP has been able to help improve the use of cycle and footpaths that connect the city center to other key places to work, including Fosse Park, Blaby town center and Everards Meadows.
"This encourages the shift towards sustainable transport while supporting inclusivity and sustainability by reducing congestion, improving air quality and promoting a healthy workforce."
Blaby District Councilor Sharon Coe, Portfolio Holder for Health, Wellbeing, Community Engagement and Business Support said: "This is an exciting partnership project that will bring brand new walking and cycling connectivity to our district.
"The work provides sustainable transport links to one of the most popular attractions in the Blaby district and enhances the connections we have to the city and to Aylestone Meadows. Creating more active environments is critical to reducing emissions, fighting obesity and improving people's well-being.
"We are delighted to be working with City Council, Borough Council, Braunstone City Council, Meridian Leisure Park and LLEP to bring these improvements to residents and we look forward to the work beginning."
Ed Healey, Sustrans Network Development Manager, Midlands and East said: "We are working closely with partners to deliver a number of enhancements as part of our Paths for Everyone programme. It helps bring us one step closer to a national bike network that is safer and more accessible to all. With support from the Department for Transport, our UK-wide program is helping to create a nationwide network of traffic-free routes that connect cities, towns and countryside and are loved by the communities they serve."
Letters outlining the proposed program will be delivered to nearby residents and businesses.
Work is scheduled to begin in August 2022 and is expected to take around nine months.
To learn more, visit www.leicester.gov.uk/transformingcitiesfund